Presentation of the Business Activity

SOCIAL IMPACT
TimeOne – Social put its skills in the setting up of Social marketing campaigns at your service. By merging our Lead Generation expertise with Data Driven Marketing and campaign optimization in real-time, we are able to bring performance and success to your campaigns (Leads, Traffic, Engagement, etc.).
Vision and values
Goals and target
Lead/Traffic generation, app download according to the client core target
Responsive Media
Possibility to create a dedicated Landing Page adapted for lead generation
Reach extension
We can provide you with your own TimeOne audience segment within facebook
A/B Testing and optimization
We adjust the audience categories and configure the campaign in real time according to the results
Performance Business Model
Our social Media Marketing experts will provide you with leads, visits, downloads on a performance basis and according to your ROI

Schematic representation of our expertise


Customer case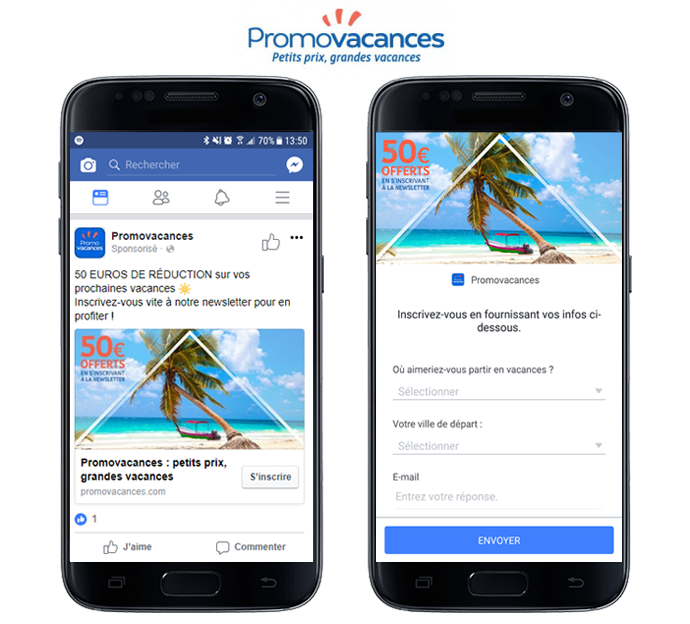 Karavel Group (FRAM & Promovacances)
Problematic:
Increase the group's customer database while optimizing a conversion in terms of sales on the sites.
Diffusion area: France
Economic Model: CPL
Targeting: native Facebook targeting (interest-based travel), lookalike existing Karavel Group customers and Facebook page interactions, DMP TimeOne data
Answer: distribution of native forms to Facebook (lead ads) to a qualified audience to maximize conversions mainly on mobile but also on desktop.
Results: 260,000 impressions, 3,500 clicks and 1,500 leads generated on both brands for a conversion rate of 43%, all over a period of one month.