Give your Business a focus through data!
Make the right decisions
T1—TimeOne's descriptive DMP—helps you to make the right decisions based on prescriptive marketing, a combination of several analyses:
DESCRIPTIVE – We understand DATA
We exploit the data collected/aggregated using the latest data-mining / data exploration techniques, and use it to draw conclusions that provide a focus for our decisions.
PREDICTIVE – We plan ahead using DATA
On the basis of our data and by using algorithms and statistical methodology, we make short and long-term predictions in order to anticipate what might happen.
PRESCRIPTIVE – We enhance DATA
We transform DATA into client knowledge to offer you viable alternatives and use simulation or decision-making support tools to advise you about what you need to do, in order to achieve the best result that is defined according to your goals.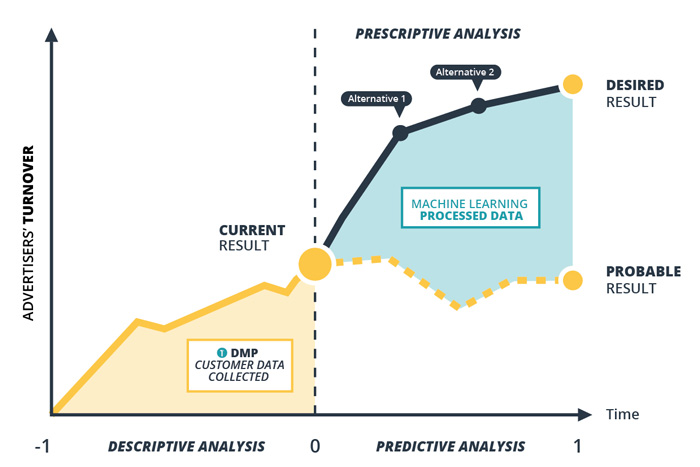 Added value of the T1 DMP

– Acceleration & facilitation of decision-making
– Proposal of multiple scenarios & recommended solutions
– Bespoke support
Practical uses of T1
– Prediction of the web user's behaviour according to the marketing actions to which he or she is exposed (receipt of an email, viewing of a banner, telephone call, etc.)
– Proposals and simulations of multi-attribution models with prediction of total amounts
– Estimates of the best "reach" for a programmatic campaign and predictions of the number of conversions

"Prescriptive" DMP: from Data to Decision-Making